Exploring the origins of stone: A Worldstone client trip in Carrara, Italy
At Worldstone, we take immense pride in being more than just a stone and marble supplier. We believe in sharing our passion, knowledge, and experiences with our clients to create a deeper understanding and appreciation for the products we offer.
Recently, Worldstone's director Paul Nahon, organised an educational experience in Carrara, Italy, where he hosted six talented Australian designers for a full-day immersive quarry experience in Carrara.
A long-held aspiration for Paul has been to invite clients to witness firsthand the process of how a block is extracted from a quarry wall and to sit in the Worldstone Showroom in Rosebery, Sydney.
"The idea to invite clients is something that I've had in mind for many years," Paul says.
"I travel frequently [and] people are really curious as to the buying process, the origin of the product, the countries it comes from…and so, the idea was born out of a number of motivating factors…and there's just the desire to share what I love to do."
This trip was an opportunity to shed light on some frequently asked questions and provide an immersive experience that showed the designers firsthand how we curate our diverse selection of stones.
The origins: Sourcing the finest natural stone at Carrara, Italy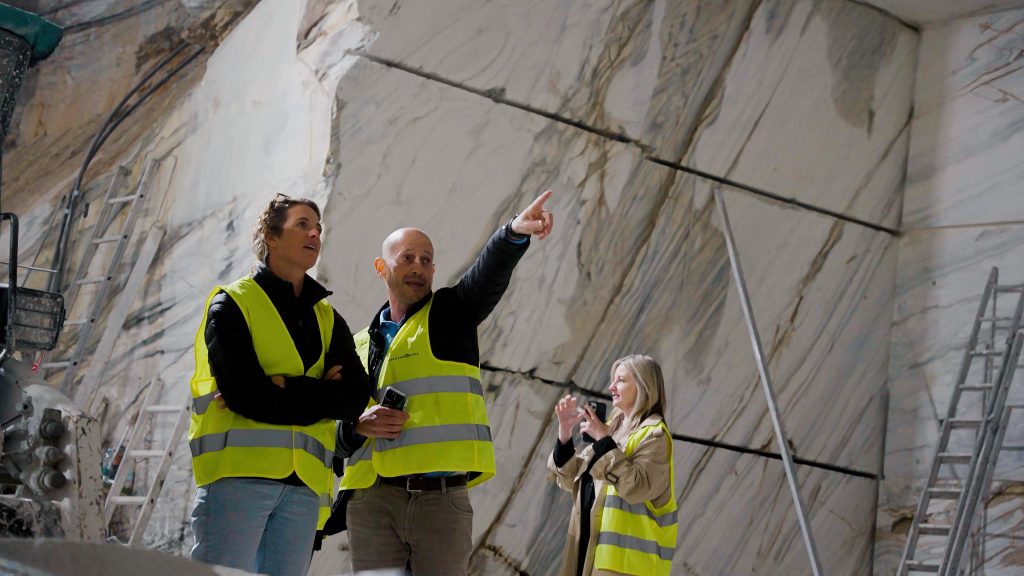 The home of marble: Carrara, Italy, holds a special place in the world of stone. It's a spectacular location known for its rich history and exquisite marble quarries.
Besides being blessed with the finest selections of white marble in the world, the workmanship, skill level, and deep history of working with natural stone ensures Italy remains the global leader in the supply of natural stone.
At Worldstone, we source the majority of our white marble range from Italy, supported by a network of long-term suppliers.
From quarry to showroom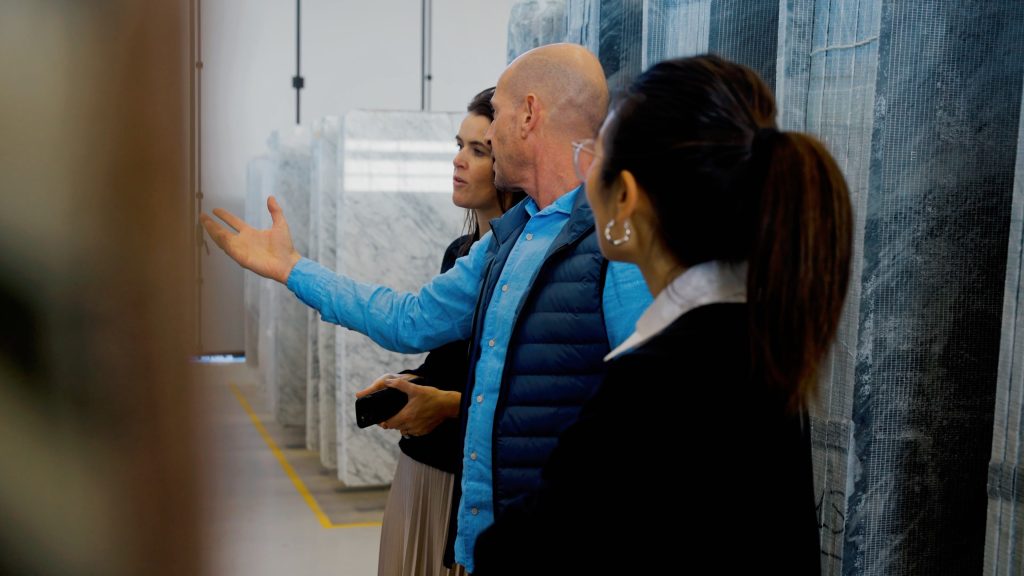 On this trip, the group visited a working Calacatta quarry where Paul guided the designers through the intricacies involved in selecting the perfect block, sharing his extensive knowledge about the origin of stone, the purchasing process, and the challenges of sourcing appropriate materials for different projects.
"I would say everybody was completely in awe of the origin of the product and seeing from inception; from the point where the quarry master is marking out where the next block will come from, seeing what that block looks like and then seeing an amazing, finished slab sitting in a gallery, and then joining the dots."
Each step in the process emphasised the dedication, craftsmanship, and attention to detail involved in bringing our curated selection of Italian stones to life back home in Sydney.
"…it was an ideal way…to give back to them [our clients] something that becomes very useful in their business, as well as something that was very enjoyable and educational. It was great to share that with clients."
Hosting our six designers how we know best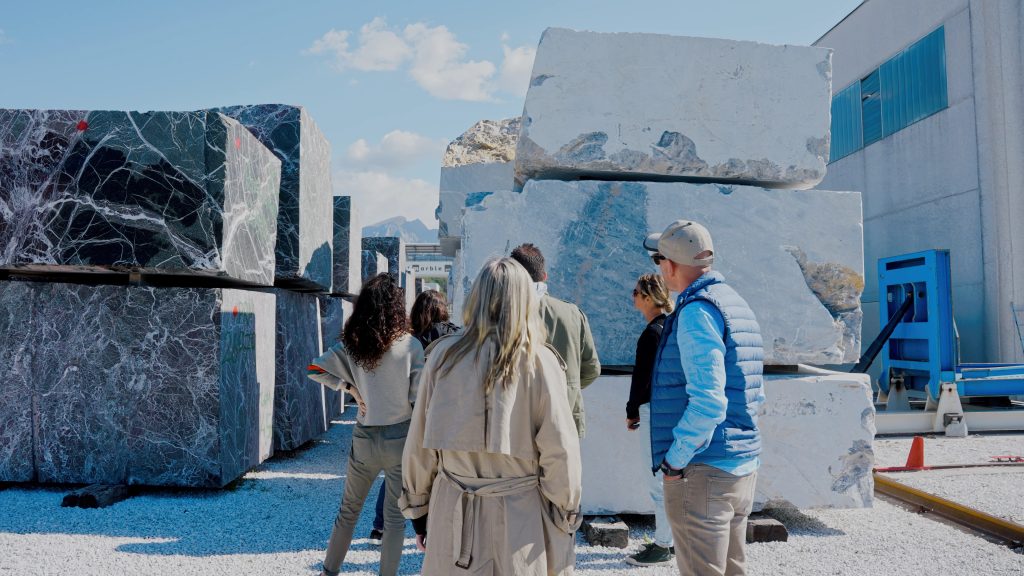 This educational experience was not just about imparting knowledge; it was also an opportunity for our clients to immerse themselves in the beauty of Italy. In addition to the captivating experiences at the Calacatta quarry and visits to some of the premium slab galleries in Carrara, Paul ensured that the group enjoyed a delightful selection of authentic Italian food and wine, further enhancing the overall experience. After all, there's nothing Paul enjoys more than sharing his passions for stone, wine, and pasta!
At Worldstone, we firmly believe that our clients are more than just customers; they are partners in our shared passion for exceptional design and craftsmanship. This trip was our way of giving back, offering an unusual and enlightening experience that can enrich their businesses and creative endeavours. Witnessing the journey of stone firsthand ensures a deeper connection and understanding, enabling them to bring their truly remarkable projects to life.
We would like to extend our sincere thanks to Jo Lawless (Lawless and Meyerson), Alice Sangster (Woods Bagot), Louise Walsh and Kelly Taylor (Louise Walsh Interiors), and Alexandra Donohoe and Charlene Cong (Decus Interiors) for joining us on this extraordinary adventure. Their enthusiasm, curiosity, and creative minds made the trip even more memorable.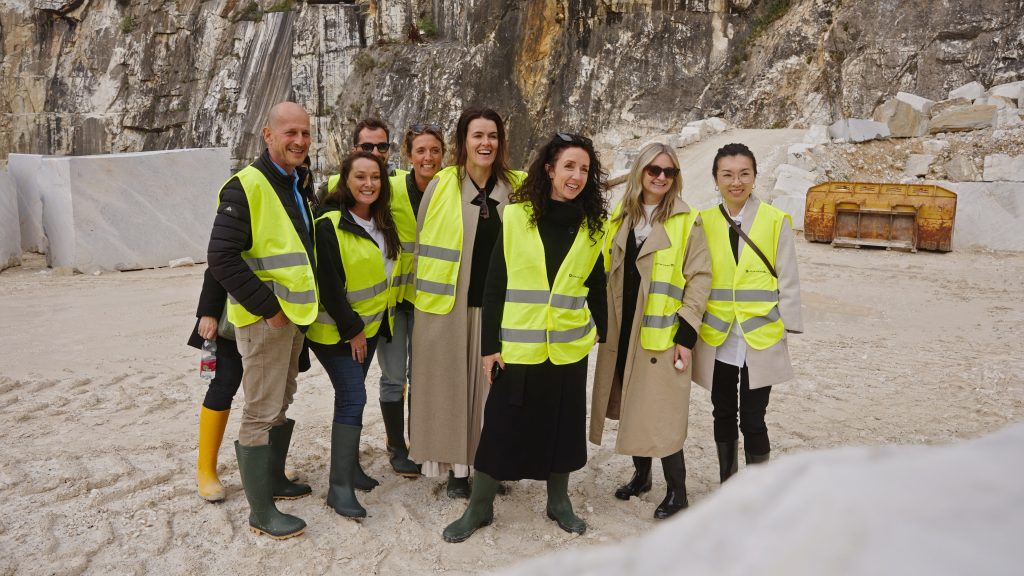 Work with us!
Worldstone is a natural stone supplier and distributor in Australia. If you're eager to work with Worldstone on your next project, we invite you to contact us today. Our team is ready to provide you with the finest selection of stone and marble, backed by our unwavering commitment to quality and exceptional service.
Let's embark on a journey together, discovering the beauty and artistry that lies within each piece of stone.
Fill out this form to get in touch with us today.